Welcome to ManUniCast, a teaching and learning portal for weather and air quality forecasting. ManUniCast supports the teaching in the Department of Earth and Environmental Sciences at the University of Manchester and also educates the public about how weather and air-quality (including atmospheric composition and air pollution) forecasts are made.
Our ManUniCast App for iPhones and iPads is available on the App Store


Select Date

Choose Domain

Pick Product
Top tip: Change "t=today" in the URL to always download the latest forecast. Useful for browser bookmarks.

Getting started...
ManUniCast provides weather data for two domains (geographical areas) - Western Europe and the UK. It also features a third domain providing air-quality data for the UK.
Data for the two weather domains is available daily from around 7am and air-quality data is available daily from around 1pm.
Each domain features many different properties, known as products, which you can pick from. The UK weather domain offers four different types of chart, but to avoid you having to trawl through a long list, you can switch between these different chart types using the chart filter buttons which automatically appear.
After selecting your chosen product, you may be offered a further choice specific to that product, for example, the level within the atmosphere to analyse data at. These further options will automatically appear only if applicable for your product selection.
When you are ready, hit the "View Product" button to view the product output. Once your product has loaded, look for the Help button in the top-right for guidance on how to use the chart viewing tool for your chosen product.
Please note: ManUniCast is a teaching tool, not an operational forecasting service. Do not expect availability 7 days a week, 24 hours day. For reliable forecasts, please see other providers of weather information.
Award nominations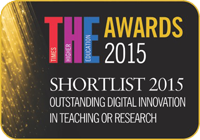 ManUniCast was shortlisted for the Times Higher Education Awards in the category of Outstanding Digital Innovation in Teaching or Research in 2015.